Hot antique bottle bitters an dating fine big white
Wednesday, November 22, 2017 by Kurac
There are several clues to assist in identifying the year and distillery of whiskey bottles.
Glass dates:
Most bottle manufacturers molded the year into the glass at the bottom of the bottle in 2-digit format. You'll often find it in the lower right portion when looking at the bottom (some dates are much easier to distinguish than others). This will usually tell you–within a year or two–when the whiskey was bottled.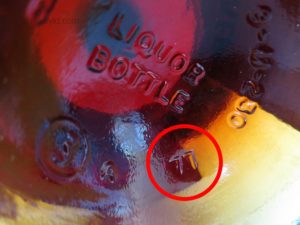 Sometimes you'll find two different 2-digit dates in the same bottle. Generally the earlier date refers to the year the bottle mold was created, and the latter is the year the bottle was made.
Tax strips:
Most bourbons and ryes had a tax strip seal over the cap up through 1985. After that, several brands continued with a "faux" tax strip, which looked similar to a tax strip but wasn't an official government item. Below is an example of a "faux" strip, though they were brand specific and styles vary (click to enlarge).

– If the whiskey was bottled in bond, it will show the distillation and bottling years, if not faded away over time. Bottled in bond tax strips are green; non bonded tax strips are red and do not show the years. Blue tax strips were for export out of the US only, but not all exports used blue strips. The green Bottled in Bond strips were discontinued starting December 1, 1982. Below is an example of a bonded tax strip (click to enlarge).

– Prior to 1973, green bonded strips denoted the size of the bottle, for example 4/5 qt, on one end of the strip. From 1973 on this was no longer required. This doesn't seem to have applied to red strips.
– Starting in 1945, the words "Series" and "111" appear below the eagle in the center of red strips. Below is an example of a 1945-1960 style strip (click to enlarge).

– In January of 1961, the "Series 111″ was changed to "Series 112″ on red strips and the size of the bottle no longer appeared at the end of non-bonded strips (except for mini bottles, which were excluded).
– Prior to 1977, the strips referenced the Department of Revenue. Below is an example of a 1961-1977 style strip (click to enlarge).

-From 1977-1985 the strips referenced Bureau of ATF. Below is an example of a 1977-1982 style strip (click to enlarge).

– In 1982 the words "Tax Paid" and "Distilled Spirits" were removed and replaced with simply "Distilled" and "Spirits" on the bottom of the strips. Below is an example of a post-'82 style strip (click to enlarge).

UPC Codes:

UPC codes started to be used in the late 70s/early 80s, which can give you a general idea of era.
Also, you can sometimes glean some info from the prefix on UPC codes as to what company bottled/sold the whiskey:
80244 – Buffalo Trace
80432 – Wild Turkey
80660 – Barton Brands
80686 – Jim Beam (newer OGD)
81128 – Brown-Forman
83924 – Heaven Hill
85676 – Medley
86259 – National Distillers (older OGD and OT)
88004 – Buffalo Trace
88076 – Heaven Hill, formerly used by United Distillers and Schenley
88508 – Stitzel Weller (although some Old Fitz bottled by HH has been seen with this UPC also)
89319 – Old Rip Van Winkle
96749 – Heaven Hill
Bottled in Bond info:
Prior to August 1959 the bonded statement read: "This bottle has been filled and stamped under the provisions of sections 5008 and 5243 Internal Revenue Code."
In August of 1959 the statement was changed to: "This bottle has been filled and stamped under the provisions of sections 5205 and 5233 Internal Revenue Code."
Until 1958, the maximum age federal law permitted for bottled in bond bourbon was 8 years, so even if a bottle was 100 proof and met all the other criteria for bonding, it wouldn't be considered bottled in bond if it was aged longer than 8 years. A good example is the early Very Old Fitzgerald 12yr, which wasn't considered bonded and wore a red tax strip, although it was 100 proof and all distilled in the same year.
Also of note: the bottled in bond code was only enforceable in USA, so it's common to see export bottles marked as bonded that are less than 100 proof.
Metric vs. Imperial:
US bottles used the imperial system until 1980 (pint, quart, gallon, 4/5 quart, etc.). Starting January 1, 1980 all bottles were required to use metric measurements (750ml, 1 liter, etc.). Some bottles produced during the transition will show both metric and ounces.
Incidentally, the term "fifth" for a bottle of liquor comes from the fact that the standard size for many years was 1/5 gallon.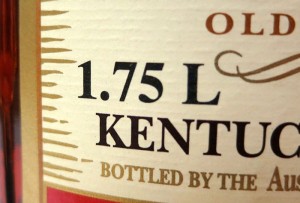 Government Warnings:
The federal government began requiring a health warning on liquor labeling starting in 1989.

Following prohibition, from 1935-1964 the following text was required by the government:
"Federal Law Forbids Sale or Reuse of this Bottle."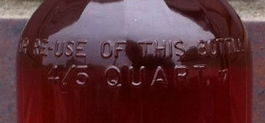 It's usually embossed in the glass, but sometimes on the label. If your bottle shows these words, it was probably bottled between 1932 and 1964. However, some producers continued to use bottle molds with the warning for a few years after; bottles that display the warning have been seen up to 1970.
Date Codes:
Some bottlers have used date codes, also known as dot matrix codes, to denote the day/time the bottles were filled, and sometimes other information such as the particular bottling line. This was more common starting in the 1990s. You can see here this Wild Turkey was bottled in 1998.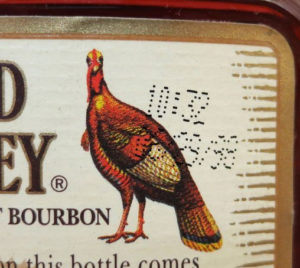 Other distilleries use date codes that are more cryptic. See the Van Winkle Timeline for examples of Buffalo Trace's coding scheme.
Our Photo Libraries

Browse the photos on this site to see if you can find a matching bottle that's already been identified.
Getting more specific
See the timelines for distillery- and brand-specific information.
https://whiskeyid.com/how-to-date-id-your-whiskey/